Since the release of Crysis in 2007, Crytek has become a more than familiar name within the industry. Sporting ridiculously high requirements, Crysis enthralled players such as myself with visuals that were far beyond its time. The problem was if you didn't have access to a sufficient pc (and most did not) then you were left out in the cold.
When Crytek released Crysis 2 in March this year, that all changed. Not only did Crytek manage to make a game that looks so amazing you will find your jaw between your feet for the whole ride, but they did it on consol.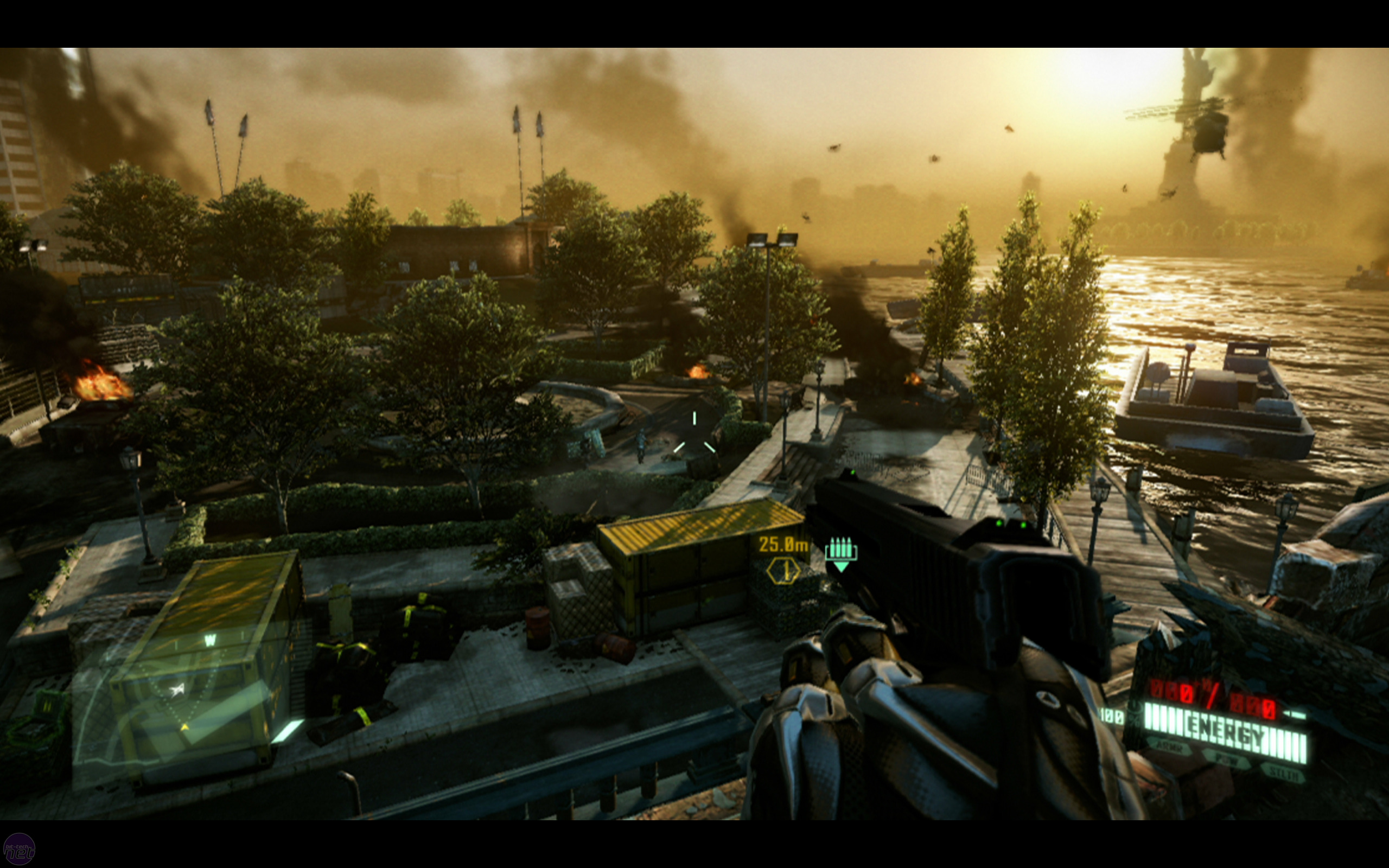 In game screenshot? You bet your hairy lil ass.
In Crysis 2 you will find yourself playing the role of "Alcatraz", a marine who ends up being the only hope for humanity. Armed with an amazing suit you will fight your way through the ruined streets of New York City, as mankind's greatest weapon, combating and avoiding an alien menace that lurks around every corner. The amazing visuals that CryEngine 3 provides is more than enough to keep you entertained during your Crysis 2 experience, but to make things better, the game also features an outstanding and cinematic campaign. Throughout the campaign you will find challenging scenarios, stimulating graphic, some varying but mostly good voice acting, an epic adventure, well hidden collectables, and much, much more.
Crysis 2 feels a lot like your average military shooter at it's core, but the nanosuit adds much depth as it allows players to use its ever famous cloaking ability, as well as armor, superhuman speed, a tactical scanner and thermal vision. In both campaign and multiplayer the use of just about all the suits powers will be vital for survival. All of the skills consume energy, which will quickly refill when the nanosuit's powers are no longer in use. This adds an interesting twist to multiplayer seeing as being uncloaked can be hazardous to the health, players must be strategic about how they push through the maps. Finding your self out in the middle of a huge open area with no energy, unlcoaked will usually end in death.
Another enjoyable aspect is the RPG elements cleverly implemented into Crysis 2. While kicking some alien ass you will receive XP, which you will then be able to spend to improve your suit and give yourself sweet new upgrades. RPG elements arise once again in the multiplayer mode which very much resembles Call of Duty with a few interesting ideas tossed into the pot, such as the individual leveling of each of your suits abilities. Unlock weapons, attachments, and perks to aid to you in battle, and complete challenges and pull off skill shots to get an extra xp boost. Crysis 2 also has a great assortment of maps and game modes to be explored online, which will help to keep you coming back for more.
Unfortunately, Crysis 2 also has a handful of things that kept the game from reaching its full potential.
One of the biggest problems being how linear the campaign was, it was not easy to play Crysis 2 for extensive periods of time due to its boxed in, linear path which leaves you wanting to spread the wings a bit. Often enough you will find yourself on a street that feels similar to a street before it, doing something that you're pretty sure you've already done before.
The checkpoints in the game also occasionally frustrated me, sometimes being spaced a bit too far apart and may leave you wondering later why they placed two so close together in some part of the campaign where it almost seemed silly. This was not a huge problem, but was something I couldn't help but notice.
I've seen that a good number of reviewers have spoken out against the games AI, voicing that the enemies in game are terribly stupid. This is also something I took notice of, but honestly it didn't bother me all that much. I feel the combat felt rich regardless of how good the AI performed.
The last point I would like to make is left to debate. I personally felt the games stealth aspects left me sneaking through enemies time and time again. Yes I could have just stopped and fought my way through every scenario, but often I just found it to be a hassle. For those of you that enjoy Metal Gear Solid this could very well be a fun and interesting element, but I often found myself feeling a bit bored with sneaking around and longing for some scenarios where stealth would not be the ultimate solution.
Overall I really enjoyed Crysis 2. I wouldn't go as far as to say it was the most enjoyable gaming experience of my life, but I did find it to be refreshing and it looks great. It looks really great! The game has been out for a bit and at this point has dropped significantly in price. I recommend picking it up, the graphics alone are worth the money.
Score:
8.3 / 10